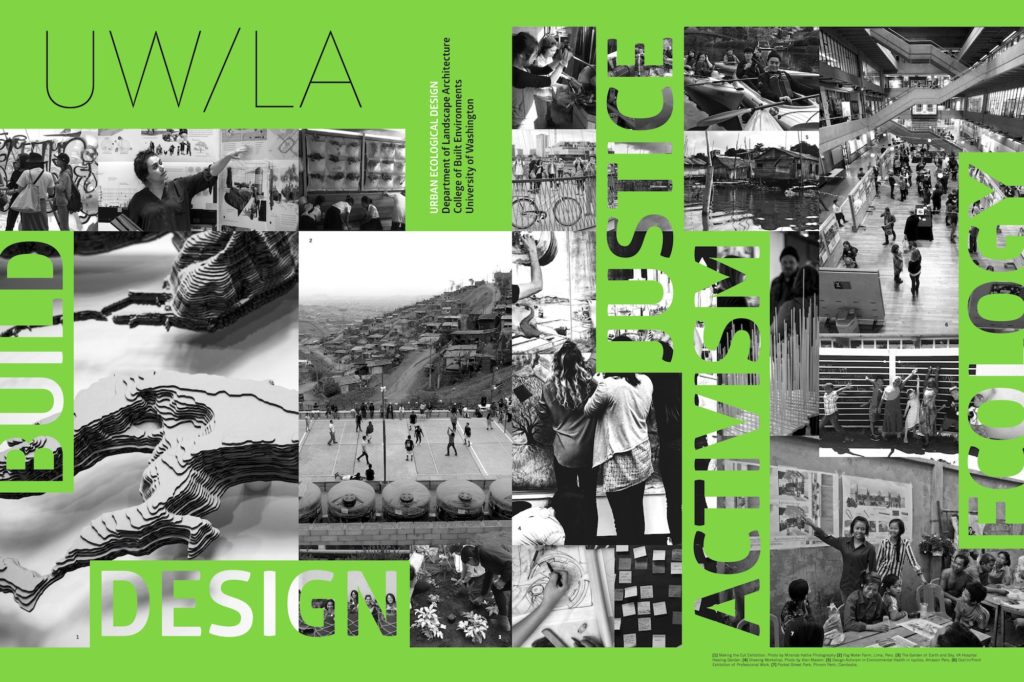 Download the Document >
In the 2015-2017 biennium, the Department of Landscape Architecture at the University of Washington continued to thrive under our strategic focus of Urban Ecological Design. Beyond just a context for operation, our vision of Urban Ecological Design embraces specific dimensions of Design Activism, Design/Build, Design Justice, and Design Ecology.
Students and faculty have explored the planning and design of green infrastructure both locally in Seattle and abroad in Cambodia, China, Croatia, and the informal settlements of Lima and Iquitos, Peru. Specific studio and research projects have engaged community stakeholders, advocacy organizations, and institutional actors to address issues of climate change, social justice, cultural diversity, and resilience – reflecting the civic value and environmental ethic that define Seattle and the Pacific Northwest.
In the Garden of Earth and Sky, students worked with the VA Hospital patients and staff to create a spiritually-meaningful and ecologically-restorative space for the patients and visitors. Through the Informal Urban Communities Initiative (IUCI), students and faculty developed a fog collection pilot project while creating community open space. Our Green Futures Lab continues to undertake projects at both local and regional scales, developing award-winning solutions and pilot projects for urban stormwater, floating wetlands, water harvesting, adaptive streets, and regional open spaces. Through these projects and many more programs, students and faculty are pushing for a vision of landscape architecture as a pro-active and globally-minded, social, and ecological practice.
Biennium Archive