During Autumn 2021, the Furniture Studio, a legacy course in the Architecture department, was offered to Landscape Architecture students for the first time. While the focus on craft and material remained constant, the context of the work provided a unique scale and scope not previously used in furniture studios.
Architecture faculty members Kimo Griggs and Steven M. Withycombe worked with 12 MLA and BLA students to design and fabricate landscape furniture.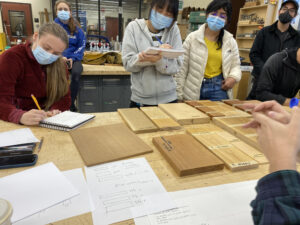 Students receive a primer on lumber dimensions and wood types in the Fab Lab (photo by Sihong Zhu)
From infrastructure to buildings to landscapes, the built environment is furnished at a variety of scales. Furniture has been a critical organizing feature for centuries, signifying power, providing perspective, defining and supporting social organizations, comfort and health. Learning how to design and make furniture in the landscape is an education in landscape architecture writ small, including design strategy, ethics, team-work and sustainability. Investing in lasting materials and methods to produce full-scale, carefully-considered designs provides an extraordinary and lasting student experience. The inaugural Landscape Furniture Studio of Autumn 2021 produced a wide array of excellent designs, setting a high bar for future students.
Professor Kimo Griggs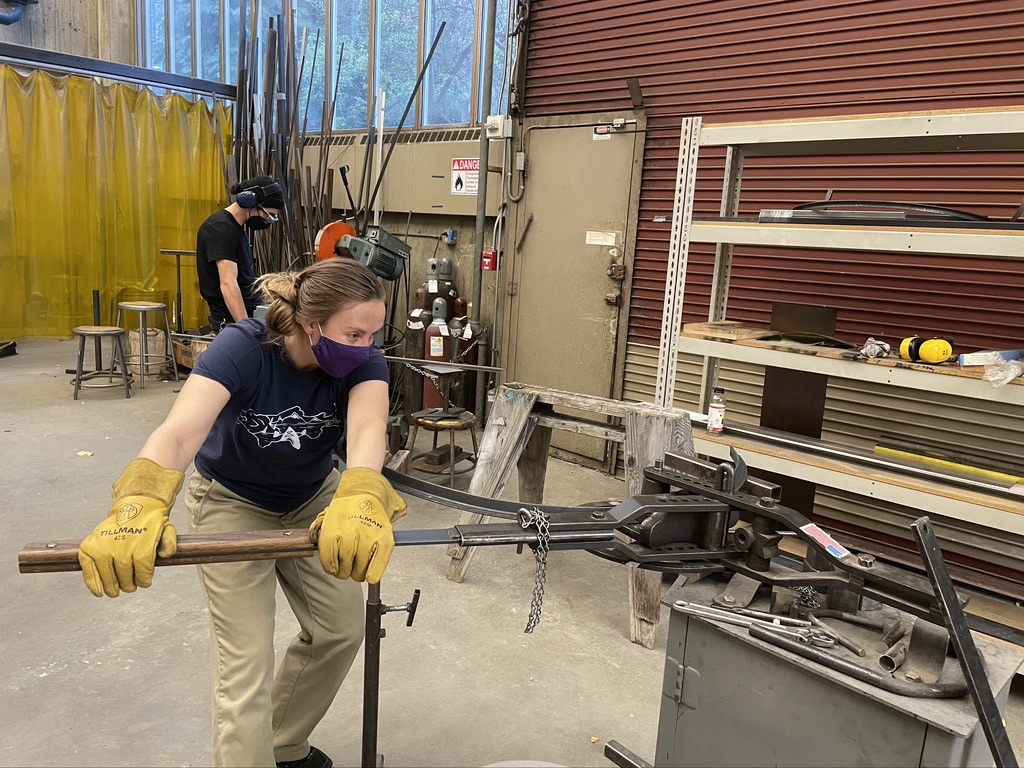 Students especially appreciated the course for advancing dialogue in interdisciplinary exploration at an object-level and the opportunity to work intimately with fabrication processes prioritizing the details of craft and making.
Furniture exists in every built environment, and as a result, it sits on the nexus of so many different fields. Kimo often said that you could "resolve the world in a piece of furniture" and I think that applies just as well to landscape design, architecture, city planning, and every other built environments field. It was so valuable to be able to work with architecture professors, as well, because it's very easy to get ensconced in your department's way of thinking. I feel that I have learned so much more having been exposed to different pedagogies in this very departmentally collaborative studio.
Isa Lewis, BLA '23
Furniture studio fit perfectly into the MLA sequence. It complimented the work I was doing in Materials Craft and Construction and helped me understand both assemblies and materials more deeply. It's so rare to have a full design-build experience in school, especially on a design that is all your own, and it was incredibly gratifying to experience the entire design process in a microcosm of a single piece of landscape furniture.
Jesse Sleamaker, MLA '23
This longed-anticipated course will be part of the annual studio rotation moving forward. We're looking forward to the interdisciplinary innovations that will come out of this studio for years to come.
(Click on the photos below for more information on each piece.)