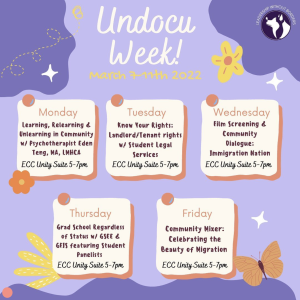 Undocu Week
Leadership Without Borders
March 7-11, 2022 | 5-7 PM
Undocu Week is hosted by Leadership Without Borders (LWB) and consists of a series of weeklong events that provide knowledge, resources and more to the UW community and beyond! This is the week's itinerary—all events will be from 5-7pm in the ECC Unity Suite!
There will be fun prizes at select events that include Undocu Week swag, music, food and more! We welcome everyone to join us as immigration is an intersectional issue that impacts ALL communities. Keep an eye out for more information about each even on Instagram. We can't wait to see you all, come join us!
Winter 2022 Critical Race Theory Trilogy
The Resiliency of CRT: Surviving Through Truth
with Edwin Lindo, Associate Teaching Professor and Assistant Dean for Social & Health Justice, UW School of Medicine
THURS March 10 | 6:30 pm
Register here – for one or all three lectures
Join the Office of Public Lectures this quarter for a trilogy of talks on Critical Race Theory, featuring UW faculty and staff experts as they share their research. All talks will be held in-person at Seattle Town Hall at 6:30 p.m. We do plan to rebroadcast each event on our YouTube channel at the conclusion of the series.
Historic Foundation Preservation Awards Series: Wa Na Wari
FRI Mar 11 | 3:30 – 5 p.m.
Cost: $5 members / $10 general public
Historic Seattle is excited to launch a new program series highlighting a handful of our 2020 and 2021 Preservation Awards Winners. This series runs from February 22 to March 12 and includes virtual and in-person events. We look forward to learning more about these incredible preservation projects from the project teams!
Wa Na Wari | 2020 Community Advocacy Award
Wa Na Wari is an active center for Black art and culture sited in a 5th-generation Black-owned home in Seattle's Central District. By providing space and resources for Black artists to collaborate, exhibit their work, and network with other artists, collectors, and patrons, Wa Na Wari is advancing the community in the face of such challenges. To support their ongoing efforts in homeowner advocacy, Wa Na Wari also received a $3,000 Community Advocacy prize alongside this award.

We look forward to this in-person tour of Wa Na Wari and its current art exhibits facilitated by Founder & Land Steward Inye Wokoma and Founder & Curator Elisheba Johnson.
Queer Trans Ecologies and River Justice
FRI Mar 11 | 7:30 – 8:30 p.m.
Seattle Town Hall
Register here – Tickets are available for $5
From the grasslands of the Columbia Plateau to the rich valleys west of the Cascade Mountains, There are over 70,000 miles of rivers in Washington state. Rivers are vital to our region's ecosystems, hosting a wide diversity of living things in their waters and along their banks – our beautiful state would not be what it is without our waterways. How might we better understand rivers and ensure their vitality now, and in the future?
According to queer-trans-feminist river scientist Cleo Wölfle Hazard, the key to our rivers' futures requires centering the values of justice, sovereignty, and dynamism. Wölfle Hazard's new book, Underflow: Queer Trans Ecologies and River Justice, meets at the intersection of river sciences, queer and trans theory, and environmental justice, and explores river cultures and politics at five sites of water conflict and restoration in California, Oregon, and Washington.
Incorporating work with salmon, beaver, and floodplain recovery projects, Wölfle Hazard weaves narratives about innovative field research practices with a queer and trans focus on love and grief for rivers and fish. Wölfle Hazard frames the book with the concept of underflows — important, but unseen parts of a river's flow that seep down through the soil or rise up from aquifers deep underground. Wölfle Hazard explains that there are underflows in river cultures, sciences, and politics, too, where Native nations and marginalized communities fight to protect rivers.
In discussion with UW associate professor Stephanie Clare, Wölfle Hazard describes why rivers matter for queer and trans life and how science can disrupt settler colonialism.
Cleo Wölfle Hazard (he/him, ze/hir, they/them) is assistant professor in the School of Marine and Environmental Affairs at the University of Washington, coauthor of Thirsty for Justice: A People's Blueprint for California Water, and coeditor of Dam Nation: Dispatches from the Water Underground. Wölfle Hazard was part of an EarthLab Innovation Grant project in 2021.
…But Now I See: Using the Lens of Racial Literacy to Understand Racial Trauma and Promote Justice and Healing
MON March 14 | 7:00 – 8:30
Register here 
Despite its tragic arc, the so-called "double pandemic" has served as an awakening to the realities of racial injustice across a number of systems. On one front, the pandemic of COVID-19 disproportionately impacted Black adults and youth, both physically and psychologically. Meanwhile, we have borne witness to another pandemic, dating back to 1619, which has been a reminder that racism is "alive and sick". Justice and healing in the face of the insidiousness of racism in its myriad forms require recognizing how it expresses across the lifespan. In this presentation, I will discuss racial literacy as a tool for recognizing racial trauma across a number of systems and life stages. Collectively, we will reflect on how racial seeing and racial noticing are important elements in our mission towards social justice.
Resistance Through Resilience – ft. Dr. Bonnie Duran
TUES March 15 | 6:00–7:00 p.m. PDT
Register here
Join public health researcher and Buddhist mindfulness teacher Dr. Bonnie Duran as she discusses the important community health implications of contemplative practice. With grounding in trauma-informed and systemic perspectives, this talk will explore the avenues for public health practice that empower and reinforce resilient communities. 
The Livestream link will be emailed to registered attendees one day prior to the lecture date.
Our Blue Planet: Global Visions of Water Exhibit
MAR 18 – MAY 30
Seattle Art Museum Exhibit Link 
Dive into the expanse of Our Blue Planet: Global Visions of Water. Experience art that ripples out from the museum galleries to the edges of our world, as artists across centuries and continents explore how art helps us understand the significance of water. In response to one of Earth's most vital natural resources, artworks created in 618 AD are presented alongside contemporary works so new, they were finished in preparation for this exhibition. The more than 80 paintings, sculptures, films, photographs, and textiles on view are drawn from SAM's collections and loans from local collectors. The 74 artists represented hail from 17 countries and seven Native American tribes making this exhibition a unique opportunity to cross the seas connecting global communities and see how artists grapple with the past, present, and future of water in our world.
Meet Indigenous scientists and authors of Fresh Banana Leaves & Pollution is Colonialism
THURS March 24 | 11:30am PST / 4pm NST
Register here
*Our very own Jamilah Williams will be co-moderating this event!
We invite you to be in community with Dr. Jessica Hernandez (Fresh Banana Leaves and S2 Board of Directors) and Dr. Max Liboiron (Pollution is Colonialism), in a discussion moderated by S2 board members Jasleena Grewal and Jamilah Williams.
Dr. Jessica Hernandez draws from Maya Ch'orti' family in El Salvador and Zapotec family in Oaxaca, Mexico, and an upbringing that's taken her to doctoral interdisciplinary work that itself addresses interdisciplinary, holistic relations, from marine science to forest study.
Her work has figured in both academia and in community, including founding an environmental consulting and aretsanias hybrid business, Pina Soul SPC, and as a member of Sustainable Seattle's Board of Directors where she helped the organization establish a special fund for Indigenous Leadership and has hosted several discussions about trans-national Indigenous knowledge on climate change.
Dr. Max Liboiron is a leader in both developing and promoting anticolonial research methods into a wide array of disciplines and spaces. As founder of CLEAR, an interdisciplinary plastic pollution laboratory whose methods foreground humility and good land relations, Liboiron has influenced national policy on both plastics and Indigenous research, invented technologies and protocols for community monitoring of plastics, and created protocols for fostering research collectives. Dr. Liboiron's book has been a resource for Sustainable Seattle in pre-development work around local community-led initiatives addressing pollution and policy.
Jasleena Grewal, a member of S2's board of directors, is a community member specializing in behavioral health and environmental methodologies in healing from trauma. Jasleena will moderate the discussion, along with fellow board member Jamilah Wiliams, a community organizer and assistant director at UW College of Built Environments who will moderate community comments and conversation via chat.