We welcome back some of our students who went to Traena, Norway to complete their Design/Build with Daniel Winterbottom and co-instructors Luka Jelusic and Mate Rupic! 
A group of 16 students, some matriculated at UW, left the US in the middle of June 2022 to work on a design/build project on a small island off the coast of Norway for five weeks. Students were asked to create a unique space that could be offered year-round to the local community as a place to gather. They also wanted the space to feature an outdoor kitchen, classroom, community garden and hold community events such as their annual summer music festival. 
Students spent the first week designing and collaborating, leaving the following three weeks for building and implementation. Before beginning the design process, they had a chance to tour the island and visit some local landmarks. They met some of the locals to learn about their lifestyle and hear input on what exactly the community needed. Students, working in groups of four, began conceptualizing and iterating potential ideas and designs for the site. Overall, the group agreed that they wanted to create an area that met the community's needs while paying homage to Traena's unique culture, identity and history. At the end of the week, each group presented their proposal to the community and let them select which project they connected with the most.
Building began during the second week of their stay. As always, the proposal would not come out exactly as planned and some aspects would have to be altered so that it was feasible given the small time span and allotted resources. 
Students were led in sketching exercises by Daniel Winterbottom throughout their time there. Students traveled back to mainland Norway to visit Oslo and Bergen for their final week.
Here are some of the process and final images of the students' amazing work abroad!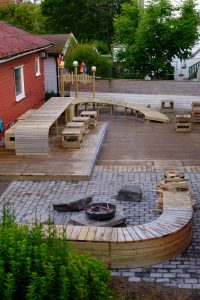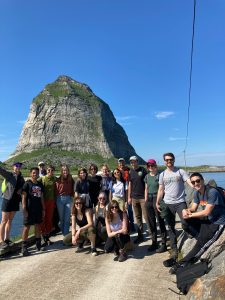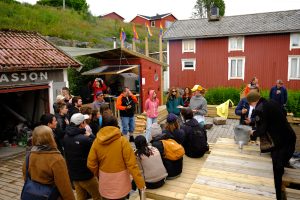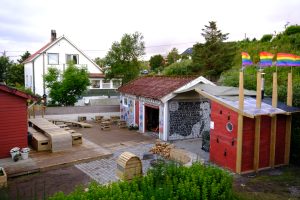 "The tides rolling into the island bring new people/visitors, new stories and even concerns from the outside world. But at the heart of the island is a community, whose intimate relationships form a resiliency that attracts the wayward and longing for respite to stay while deflecting the negative and worries of the world back out to the sea. That this haven seemingly at the end of the world away is a vibrant beacon of humanity. Our design lies at the center of Traena, and pulls people in formally. That line continues throughout the site consistently redirecting attention towards the central area (to other people in the space) and eventually dissipates or "recedes" back out in the landscape and to sea from where people came." 
– Grant Guliano MLA, UC Berkeley
Photo credit: Maron Bernardino, Heather Fortunato, Jenna Simpson