Sophia joined the BLA program in 2020. When she's not studying landscape architecture, she's a student staff member of the UW Farm. Check out Sophia's profile from UW Farm below!
---
Sophia Falls, First Year Student Staff, CSA Lead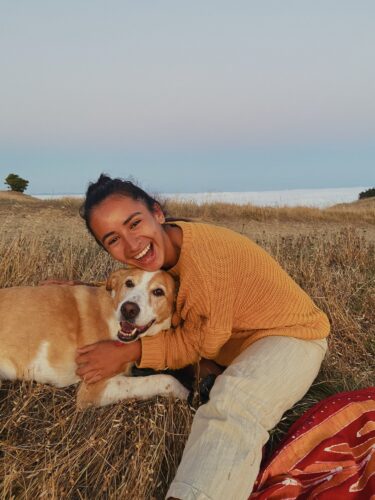 Sophia is a junior at UW majoring in Landscape Architecture with a minor in Geography. She is interested in the intersection between humans and their environment. Her first introduction to the UW Farm was through Eli Wheat's Urban Farm course (See the YouTube video below). This course sparked her interest in farming and since then she has worked as a CSA packer at a produce farm and has spent some time WWOOFing during quarantine.
Sophia will be focusing on our CSA program, taking over from Krista Einarsson, who graduated in December and was the first to focus on managing the communications and organization of the farm's subscription program that supplies households with produce from June-November.
When she's not at the UW Farm you might find Sophia practicing yoga in her backyard. She is also looking forward to enjoying a good meal with pals when it is safe to do so in the future!
Year at UW: Junior
Hails From: Sonoma, CA
Hobbies: Hiking, biking, yoga, cooking, playing music
Favorite fruit or vegetables: Sweet potatoes, Dino kale, Brussel sprouts
---
Learn more about the UW Farm on their website and check them out on the social medias: