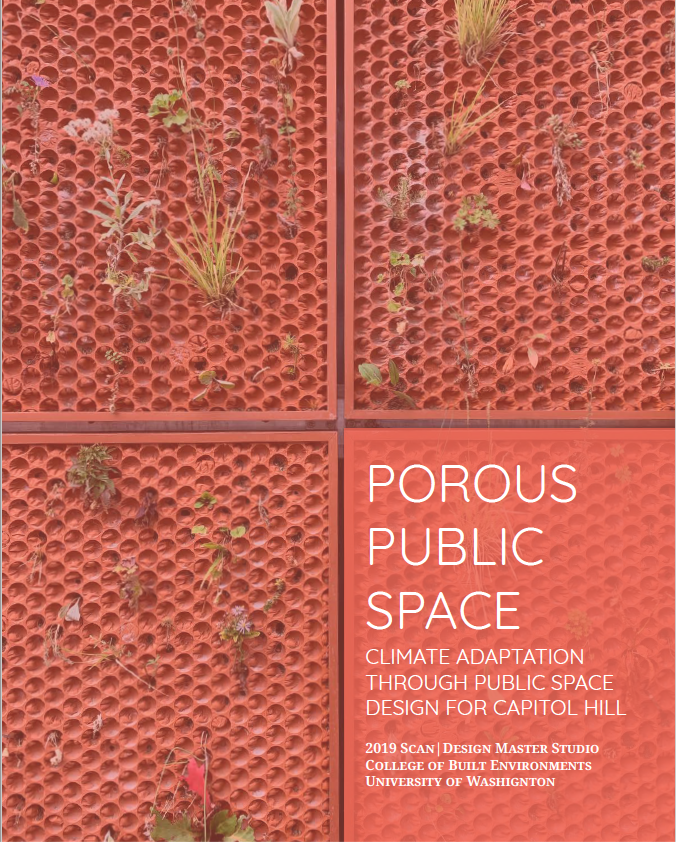 Course Instructor
Nancy Rottle
Course Date
Autumn 2019
Course Type
Scan|Design Master's Studio
Studio Book 
The Capitol Hill neighborhood is known for its hip bars, cultural diversity, historic mansions, and steep streets. With its reputation for being Seattle's coolest neighborhood, the addition of the light rail station, and corporate growth in nearby South Lake Union, is rapidly intensifying, bringing both opportunities and challenges to this urban, but historically residential neighborhood. The community values public space for informal and celebratory social events, and organizations are working to increase both the amount of green space available and commercial corridors to support vibrant, local businesses. However, population growth also increases demands on the city's infrastructure, such as the stormwater system.
Capitol Hill's urban hydrology is unique in that the neighborhood is surrounded by water bodies on three sides, which receives stormwater draining from the hill's contaminated streets, roofs, and in severe rain events, its sanitary sewers. The goal of this year's studio was to enhance the public realm of Capitol Hill while also lessening the impact of stormwater runoff through innovative designs. Our experiences in Copenhagen and Malmö inspired our efforts to design equitable, sustainable, and porous public spaces that embrace stormwater as a potential civic asset.
This year marks the twelfth Scan|Design Interdisciplinary Master Studio and we would like to give special thanks to the Scan|Design Foundation for their continued support of this extraordinary opportunity. The immersive relationship between life in Seattle and Copenhagen would not be possible without our Master Teacher, Louise Grassov; we are so thankful for her guidance and talent, from which our students benefit greatly both in Copenhagen and during her visit to Seattle.
This year we had the opportunity to once again partner with the Seattle 2030 District, an initiative to create efficient, sustainable, and resilient cities; we especially thank Steven Fry for his insight and participation in panels and reviews. We also worked with the Capitol Hill EcoDistrict's Public Life project, which collects data to inform equitable planning for holistic public spaces; we especially thank Erin Fried who gave students feedback, hosted our final review, and made our final exhibit at 12th Avenue Arts possible. Both Steven and Erin will continue to use this student work to inform and inspire sustainable development in Capitol Hill moving forward. Finally, we sincerely thank all of our reviewers from our professional community who volunteered their time to support students' ideas, progress, and visions.