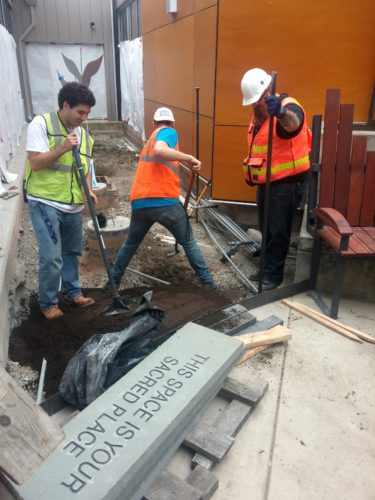 In winter and spring quarters of 2016, students from the University of Washington Department of Landscape Architecture designed and built a therapeutic garden for the Puget Sound Veteran's Affairs Hospital in Seattle. Prof. Daniel Winterbottom guided the students through this design/build capstone project. The Garden of Earth and Sky opened in June 2016.
Located in a courtyard near the main entrance and emergency room, the site serves patients, family, and staff. Many of these patients suffer from post-traumatic stress disorder and other stress-related symptoms. The concept of the design is to reorient one's position in relation to the sky and earth, reconnecting users to the greater natural landscape.
Plantings and materials were chosen to reflect the Pacific Northwest landscape through native plants, wood structures, basalt stones and blue stone paving. A seamless transition was created between the garden and hospital, revealed in the seating, paving, and geometry of the site.
This video documents the creation of the garden and its positive impact on both veterans and students. It was produced by Tatoosh Media.
Building a Healing Garden – UW Department of Landscape Architecture Design/Build from UW College of Built Environments on Vimeo.