Ken Yocom, chair of the Department of Landscape Architecture has been reappointed to another 3-year term. His appointment begins June 16, 2022, and runs through June 15, 2025.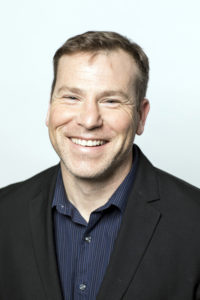 Yocom, an Associate Professor in the Department of Landscape Architecture and as an adjunct in the Department of Urban Design and Planning, has led the LA department since 2017. During his tenure, the department has refined and developed its strong reputation for community-engaged design work and student-centered teaching. He also led the College's efforts resulting in the first-ever cohort hire of interdisciplinary scholars and expanded the department's teaching and research with Indigenous partners.
"Ken has been a very collaborative leader in his department and as a member of the senior leadership in the college, he continues to help lead us into the future, most recently managing our first-ever faculty cohort hire," said Renée Cheng, John and Rosalind Jacobi Family Endowed Dean of the College of Built Environments. "Since I've arrived, it's been a pleasure to see how he works with and for the students and faculty in his department. We are excited to see what innovative initiatives he will continue to bring to the department and our college."
Yocom is trained as an ecologist and landscape architect with professional experience in the environmental consulting and construction industries. He graduated from our MLA program and earned his Ph.D. from the Program in the Built Environments, where he researched nature and societal relations through the contemporary context of urban ecological restoration practices.