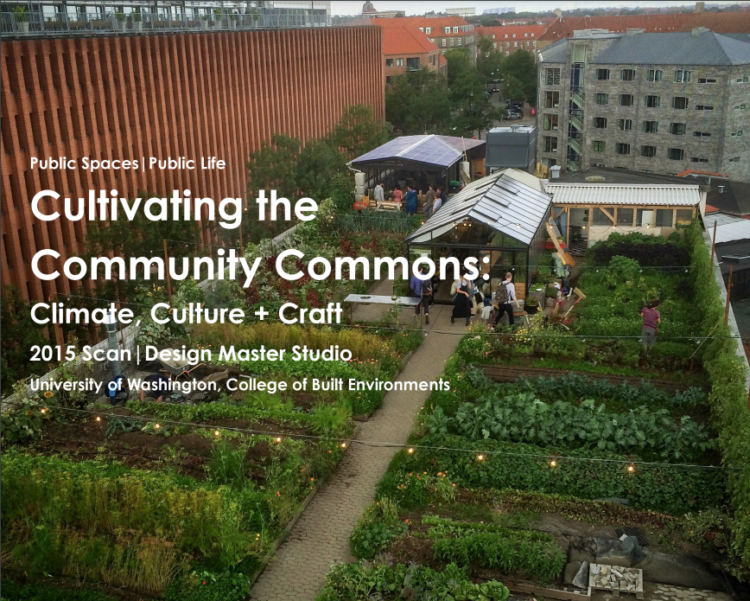 Course Instructor
Course Date
Autumn 2015
Course Type
The International Living Futures Institute's (ILFI) new Living Community Challenge sets the standard for a Living Community that is 
"socially just, culturally rich, and ecologically restorative" through the metrics of place, water, energy, health and happiness, materials, equity, and beauty
. Such a metric system incorporates the Quality Criteria for public space used by Gehl Architects and expands them to incorporate environmental and social equity aspirations.
During our 2015 studio, we worked with ILFI's framework and the organization's designated First Hill Living Community. We applied the framework to a subdistrict and site that is adjacent to Bailey Gatzert Elementary School, and at the nexus of several diverse urban communities: the Squire Park Neighborhood, Little Saigon, Yesler Terrace, a substantial homeless population, Seattle University, and numerous ethnic populations. Our ScanlDesign Master Studio was inspired by Copenhagen's approach to neighborhood "lifting" by providing arts and cultural facilities in every neighborhood for all ages, and the city's approach to conjoin climate resilience with cultivation of a good and equitable city. We applied site program ideas from our travels, including inspiration from Copenhagen's children's arts centers,  vertical schools, urban productive gardens, and "cloudburst" parks. The studio's project site and surrounding neighborhood in the First Hill district is destined to change in the next decades as the neighborhood intensifies, with streets already beginning to accommodate bicycles, pedestrians, and trolley transit, and the studio therefore considered the public life — both moving through and staying in — in the public realm of streets, parks and leftover spaces. The final studio work included design at all scales and show detailed and integrated resolution at the levels of district, site, and building.
Our studio had a unique opportunity for interdisciplinary collaboration, and  students from various disciplines worked together to analyze, conceptualize, and develop integrated and comprehensive designs throughout the term. During the term, our Master Studio benefited from the involvement of Bianca Hermansen, formerly with Gehl Architects and now with her own firm, Cititek. Throughout the quarter, we built on our Copenhagen study tour by referencing examples from our travels and employing and expanding on Gehl's public life/public space principles. We also benefited from the interaction with ILFI staff, professionals and community interests.